Inspired by fun art classes I have been running
for family and friends
FUN ART FOR ALL, the book, is here.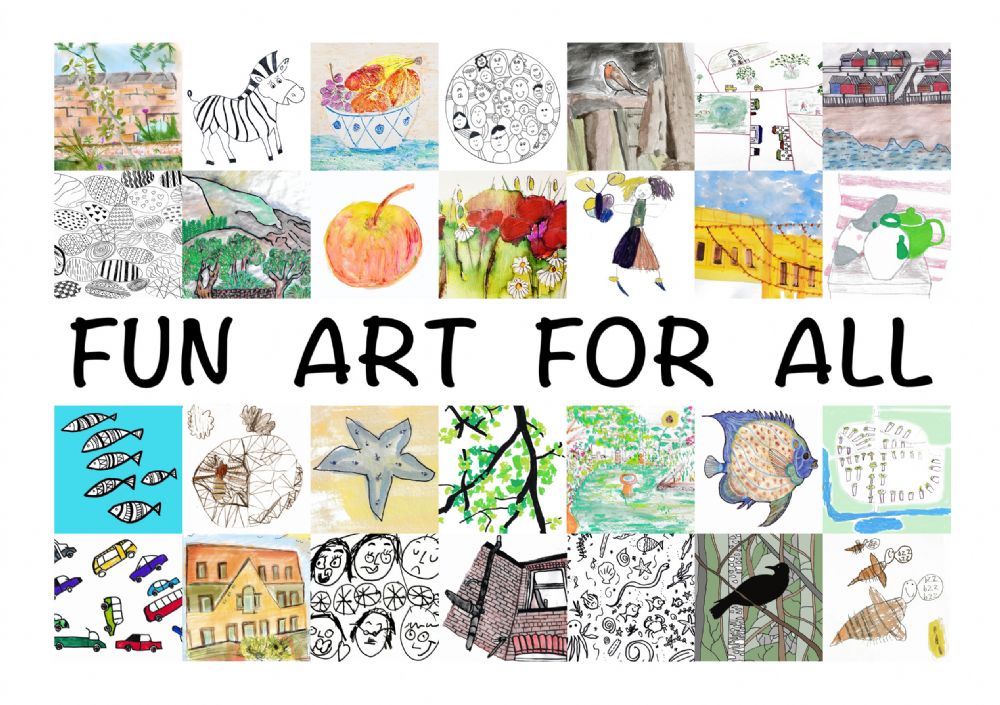 Just drop me an email and I'll get a copy off to you asap. Cost is £20 with postage within the UK included.
This book aims to encourage everyone to make art, whatever their age or background. It's not about teaching art but rather encouraging the artist in us all. It shows the work of children and adults responding to a wide range of topics. Hopefully this book will inspire you to have fun drawing and painting.
Prompted by the first Lockdown, I started Granny Jacquie's art classes for family. In weekly online sessions we have explored a wide variety of fun topics which have been enjoyed by my grandchildren and even by their mums and dads. More recently I have been running weekly fun art classes for three friends, again online, and again I am assured these are very enjoyable.
The act of creating art can be very therapeutic. Art has been found to enhance cognitive function and memory and to help reduce stress and anxiety. Brain scans have revealed that even looking at art triggers surges of dopamine, the pleasure hormone.
Granny Jacquie's art classes and the weekly sessions with friends have motivated me to put together this book with the aim of inspiring people to pick up a pen, pencil or brush and have some fun. It's not about producing formal art pieces but about exploring the world around you (even if some of that is online due to Lockdown) through the act of making art.
Who is this book for? It's for everyone - whether you already draw or paint a bit as a hobby, enjoy colouring in or just doodle on envelopes. It's even for those who currently don't do any of these things and don't consider themselves artistic.
It features work by a range of people of different ages, backgrounds and experiences in making art. The works range in style and, while the pieces are unlikely to win prizes or feature in national exhibitions, I'm assured all the artists have had a lot of fun making their work.
"Can't believe how far we've all come."
"I could sit at my "art table" for hours. I'm just getting lost in it. I never thought that would happen."
"Thanks for this evening. Really enjoyable as usual."
"That time goes soooo quickly. We must be enjoying ourselves."
For me it has been an incredible journey. My own artwork, as featured on my website and other online platforms, is mainly created digitally on my computer from original photographs taken on my mobile phone. Starting these fun art sessions and art classes has made me pick up pencils, pens and paintbrushes again myself to create work directly on paper and canvas and I am so enjoying this. And while putting together this book has not been easy it has been an incredible experience.